Are You Looking to
Replace an Acrylic Bathtub?
Fiberglass and Acrylic Bathtubs are easily dulled up by harsh or abrasive cleaners. If the dulling of the surface is light, we can sometimes simply buff it out. Using fine grits of sand paper called wet sanding and buffing it out as you would an old car.
But often, the damage the Bathtub has seen over the years is too much for this and we would need to refinish the surface with a new coating.
Since acrylic tubs are often installed before the surrounding wall and floor coverings are complete, it can make replacement prohibitively expensive. Liquid Porcelain Finish is done without removing your acrylic bathtub fixtures and can save you up to 75% over the total cost of removal and replacement.
Whether the whole unit bathtub and surround needs to be done or just one or the other is not a problem. There can be a slight color variation and we need a cutoff point. Sometimes there is a natural point to tape off, other times we simply use the turn where the tub meets the wall. Be sure to let us know if you want just the tub done or wall section or both.
Our
Liquid Porcelain Finish
process is completely different from other refinishers because we use our proprietary bonding agent to chemically weld the new finish to the acrylic tub. Many of our competitors will not refinish acrylic bathtubs, nor offer a guarantee, because their
acid etching
process will dissolve acrylic surfaces. Unique Stone Resurfacing™ will guarantee that the new surface bonded, will properly adhere and provide many years of service.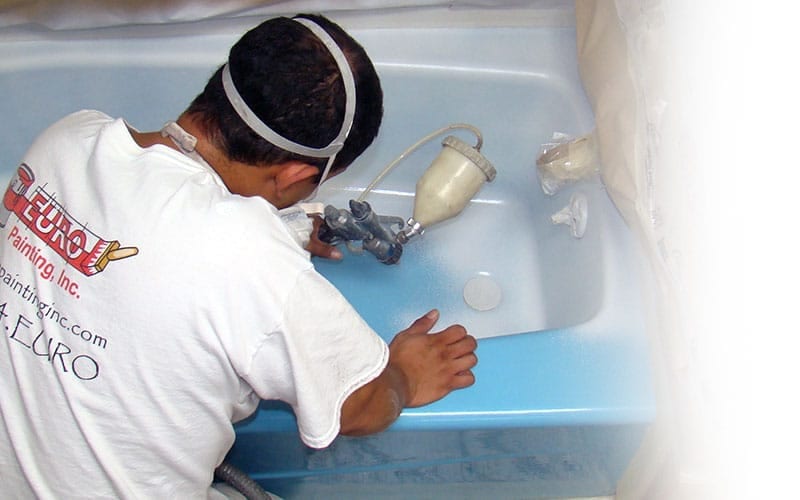 We have all the right tools, let us 
Help You
Our Unique Stone Resurfacing™ is a special process that can be used on acrylic tubs as well as other antique fixtures such as cordial sinks and countertops. Our craftsmen and refinishing process are the best in the entire industry and provides a beautiful and durable restoration.
Quality is never an accident; it is always the result of high intention, sincere effort, intelligent direction and skillful execution; it represents the wise choice of many alternatives.