Choosing
the Best Bathtub Liners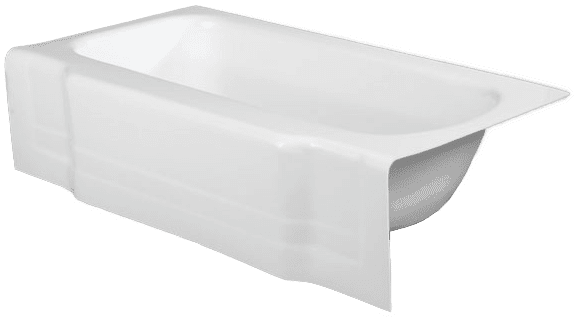 First Thing First
What Are Bathtub Liners?
A bathtub liner is a sheet of PVC plastic, or a piece of acrylic, which has been molded to match the shape of your tub. You place this sheet over your tub and glue it in place, covering the existing tub. The most common use of a bathtub liner is to change a restored porcelain tub into a more modern looking and feeling plastic one.
Are They Better or Worse Than a
Refurbished Tub?
A lot of companies promote bathtub liners as being a much better choice than traditional refinishing, but this is not always the case. If you have a high quality existing bath, you should consider your options before committing to buying a bathtub liner.
The Problems
with Bathtub Liners
Bathtub liners can be very expensive
A simple acrylic bathtub liner, plus installation, can cost $1,700 – $2,500, and if you want to purchase matching accessories the price can increase significantly. On the other hand, refinishing your existing bathtub using something like the miracle method, can cost half that amount. Even if you opt to have the tiles refinished at the same time the savings should still be significant.
There may be problems with leaks and mildew
If you do not choose a good installer, you could end up suffering from problems with leaks, mold and mildew. Even a small crack or fault in the caulking or the seam could cause lots of problems. Water leaking around the liner and the tub may just be a small inconvenience at first, but it can turn into a health hazard as the water stagnates and allows mold or mildew to grow in it. Once water gets in between the liner and the original tub it is almost impossible to remove, but it is not something that you will want to tolerate for long.
Bathtub liners are expensive and inconvenient to replace
Just as your original tub became tired and worn, the liner will eventually start to wear out. When this happens, you cannot usually repair it. Instead you will need to rip it out completely and have a new one fitted.
Bathtub liners are prone to cracking and damage
If your bathtub liner is not a perfect fit then it could flex back and forth in use, eventually cracking. Imperfect fits happen more often than you might think because of the error-prone measuring and manufacture process.
Bathtub liners are available in only a limited range of colors
If you have an unusually colored period tub, you may have to give up that unique look to get a liner.
You will need a licensed plumber if you have a bathtub liner fitted
The added thickness of the liner could require you to have your drain and overflow extended, which will require the attention of a licensed plumber.
It takes a long time to install a liner
Purchasing and installing a bathtub liner can be a slow process:
[su_list icon="icon: frown-o" icon_color="#c02418″]
Firstly, a salesman will need to come out and get you to sign a contract.
Next, you will need to have your bathtub measured to make sure the liner is fitted correctly.
A liner will need to be custom fabricated at a factory.
The liner will need to be shipped to the installer.
The installer will need to visit your home to put the tub in place.
Finally, the shell can be installed, but this will not happen until weeks after you actually signed the contract.
[/su_list]
If you have a
Vision

We will help you to turn it into reality
Quality is never an accident; it is always the result of high intention, sincere effort, intelligent direction and skillful execution; it represents the wise choice of many alternatives.