Do You Have
Vintage Bathroom Fixtures

That You Want To Restore?
The original beauty and charm of Victorian clawfoot bathtubs, antique lavatories and pedestal sinks can be restored by Unique Stone Resurfacing™.
Euro Painting, Inc. has almost 15 years worth of experience to draw upon. Antique bathroom fixtures truly are works of art. They deserve to be restored by an experienced craftsman using our Unique Stone Resurfacing™ brand. Our unique process fortunately can make porcelain finishes as glossy and bright as the day they were originally manufactured. It is even possible to repair deep porcelain cracks and chips. Our highly skilled craftsmen have restored victorian pedestal sinks and bathtubs as well as cast iron tub refinishing.
Although new Acrastone™ and acrylic reproductions are available for sale, nothing can really match the quality and appearance of vintage cast iron antique bathroom fixtures. Quite often the focal point of a bathroom's remodeling project is a clawfoot tub. There are many shapes, styles and sizes of tubs to choose from. Unique Stone Resurfacing™ professional will guides you through the restoration and custom refinishing of your antique bathroom fixtures.
Clawfoot bathtub refinishing is available in several different colors.
Although white is the most commonly found interior color, bone and almond are popular as well. And although you might not have found candy apple red in reputable homes during the early 1900s, it certain is an option now!
Most clawfoot bathtubs have a rough and exposed cast iron exterior.
The first step in cast iron tub refinishing is removing the corrosion, rust and old paint. Once this has been completed, there is the option to sand and fill the rough exterior to make it glossy and smooth. Next the exterior is refinished and sealed using either one of the Unique Stone Resurfacing™ finishes that we offer or any solid color.
Clawfeet are truly in a class all by themselves.
Some have incredibly detailed animal claws, while others have unique and bold designs. It is possible to refinish them to contrast or match the exterior of the fixture.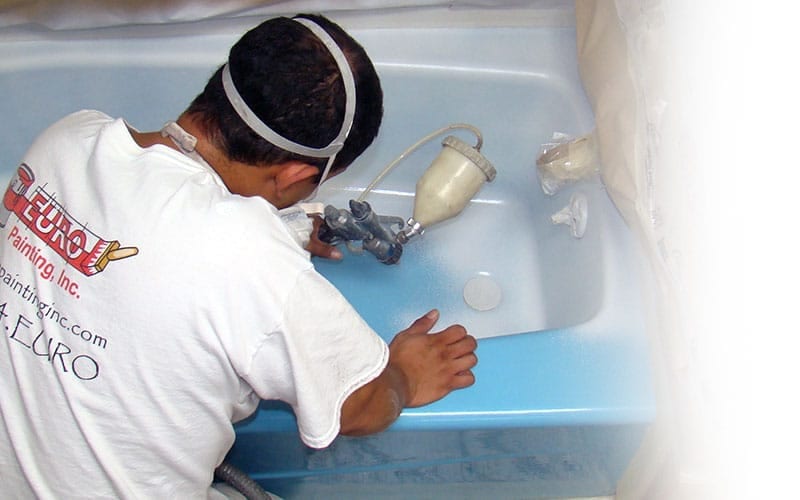 We have all the right tools, let us 
Help You
Our Unique Stone Resurfacing™ is a special process that can be used on clawfoot tubs as well as other antique fixtures such as farmhouse sinks. Our craftsmen and porcelain refinishing process are the best in the entire industry and provides a beautiful and durable restoration.
Quality is never an accident; it is always the result of high intention, sincere effort, intelligent direction and skillful execution; it represents the wise choice of many alternatives.