Before we discuss acid etching, please note that Unique Stone Resurfacing™ will not use any technique that might accidentally introduce corrosive hydrofluoric acid into your building.
A lot of companies that offer refinishing services use a substance called hydrofluoric acid to "etch" the porcelain or ceramic that they are working with in a bid to make their coating better adhere to the surface. However, hydrofluoric acid is an incredibly strong substance, and it must be handled with care. The acid eats away at a part of the ceramic or porcelain, creating small pits that the new coating can stick to.
If hydrofluoric acid is not handled properly it can burn your skin. If it is spilled it could damage the fixture or upholstery that it comes into contact with. Even disposal must be performed with care because the acid can damage pipes if it is not neutralized before it is poured down the drain. In addition, acid that is disposed of improperly could be harmful to the environment. Please note that if you allow a workman to use acid to etch something in your property, you should check that they are properly insured.
In spite of how strong acid can be, if there is even a small amount of moisture on the tub before the new finish is installed, this can ruin the effect and cause the new finish to fail to adhere to the tub. For this reason, your tub should be completely dry before you try to refinish it.
One special thing about the Unique Stone Resurfacing™ system that is employed by Euro Painting, Inc. is that it does not rely on acid etching. Rather, it uses a special acid free bonding agent to create a chemical bond between the existing tub and your intended new finish. Think of this as more like a skin graft, while acid etching simply covers the wound with a band-aid.
Many of the people who contact Unique Stone Resurfacing™ do so because they want to fix a failed attempt at refinishing using acid etching, and they are intrigued by our no-peel guarantee and the promise that the job will be done right.
Unique Stone Resurfacing™ takes pride in
being environmentally responsible

in everything they do.
Disadvantages of Laminate Countertops
Etching acid is
highly corrosive
.
Etching acid works well on some materials, but
does not work on others

.
Etching acid is a
dangerous substance to handle

.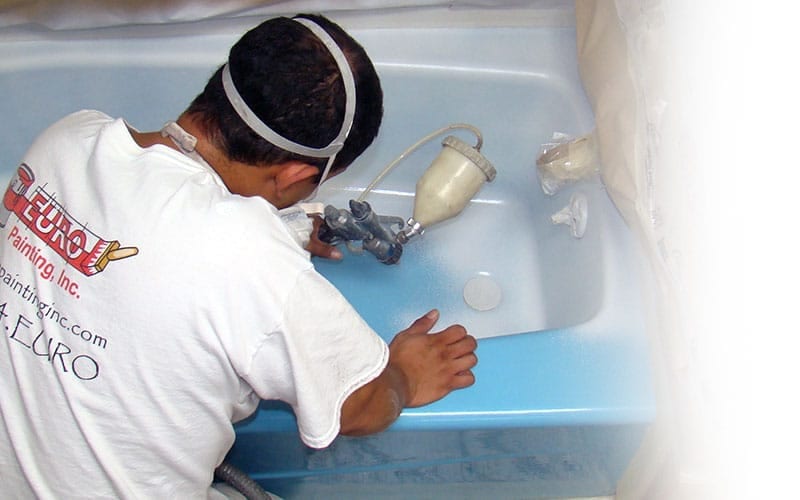 We have all the right tools, let us
Help You
Our Unique Stone Resurfacing™ is a special process that does not require use of acid etching. Our craftsmen and our refinishing process are the best in the entire industry and provides a beautiful and durable restoration.
Quality is never an accident; it is always the result of high intention, sincere effort, intelligent direction and skillful execution; it represents the wise choice of many alternatives.