What Sets
Unique Stone Resurfacing™

Apart?
Kitchen or bathroom remodels involving the removal of bathtubs, vanity tops, kitchen counters, and wall tile can get extremely complicated and expensive. An efficient, clean, low cost alternative is to refinish the surfaces instead. However, not all resurfacing jobs are created equal. Ensuring proper surface preparation, utilizing only premium products and employing state-of-the-art methods is what makes the difference between our final product and that of our competition.
When Unique Stone Resurfacing™ brand is used, the final results are consistently stellar. Bathtubs, counter tops and tiles that are refinished with our process are truly unique when complete. We offer three different types of finishes, glass, stone and satin, which allows for us to achieve the precise finished "feel" that our customers desire. However, the single most important factor that sets us apart from other resurfacing companies is the durability and longevity that our products and methods produce. Best of all, we guarantee our work and don't consider a job successful until our customers are completely elated with their remodel.
Better
Adhesion with Surface Preparation
In order to ensure the up-most adhesion, the surface must be prepared properly. Having years of experience with painting, we know this is the most important performance factor of any painting or resurfacing job. We spend the appropriate time cleaning, sanding, and repairing the surface prior to any product application. Once the surface is fully prepped, the first layer applied is a proprietary bonding agent that securely brings the existing surface and the applied materials together to deliver durable quality results. We have no need to use caustic etching acids that emit toxic fumes employed by others in the field. While other companies may claim that they are using a formula that works as well as ours, they don't have the proof in hand.
Gorgeous Visual effect With a
VARITEY OF FINISHES
We currently offer three different finishes that offer a full range of desired effects, both visually and physically to the touch. Our traditional "Stone" finish looks and feels just like its name implies. It has a rough texture and authentic stone appearance that is perfect for shower enclosures or the outer shell of cast iron tubs. We can assure that no two jobs look alike, it is as varied and beautiful as the stone it tries to imitate, found only in nature. Our shiny "Glass" finish is a fan favorite for kitchen counter tops. It resembles the "Stone" look but provides for a softer elegant shimmer that draws the eye to its overwhelming beauty. If rustic or shine is not the exact effect desired, we have a third finish that rounds out our collection, "Satin". "Satin is directly between our shiny, high gloss "Glass" finish and our rugged "Stone" finish. "Satin offers the best of both worlds. It provides a low shimmer that hides any unavoidable surface imperfections. It has the authentic look of natural "Stone" finish, with its unrivaled durability, but leaves a smooth soft feel, which prior to the introduction of this new finish, could only be achieved with our "Glass" technique.
No matter how good your materials are, if they aren't used by specially trained professionals then they are virtually worthless. Our technicians are sent out of state to an in-depth, extensive training program to learn the newest and most innovative application techniques. Each tech goes through a rigorous vetting process with a focus on providing meticulous quality and understanding the needs of our customers. We are proud to say that our resurfacing team has a combined term of over 15 years with our mother company Euro Painting, Inc. Great craftsmans are not found they are created, Unique Stone Resurfacing has produced some of the finest in the industry.
Customer 
Service
is in the response
We understand that we are in business because you are our customer.
It is important for you, our customer, to understand our process and how we do business. We are a company that strives for customer satisfaction from beginning to end. The culture of our organization is one that starts at the very top, with our President, and is embedded in every position filled. You can expect the same level of customer service from our CEO all the way to our resurfacing technicians. We have a team of experienced individuals that want only the best for their clients. If you have any questions, concerns, or criticism we greatly encourage that you address these immediately, that way we may better assist you individually. We thoroughly explain our products and processes in depth with each and every client to ensure that we are not selling to them, but helping them find solutions to their needs. Our sales reps are readily available for same day free estimates, for emergency and time efficient circumstances. Each and every representative at Unique Stone Resurfacing is here to work with you, our client, to create a unique customer experience, which makes the ultimate difference.
Notorious Reputation

But don't take our word
In Sarasota, Unique Stone Resurfacing™ is quickly becoming known as "the only resurfacing company" by realtors and management companies. We specialize in refinishing for both residential and commercial properties and have performed jobs in private homes, apartment complexes, restaurants, commercial retailers, and even schools across the state, but don't take our word for it. We have many satisfied customers who have listed their phone numbers publicly so that they can testify to the claims Unique Stone Resurfacing so proudly makes. Feel free to contact any of our satisfied customers listed on the "Customer Reviews" page of this website.
top Quality Materials
produce top quality results     
Unique Stone Resurfacing was develped in direct response to the needs of our clients. We asked how other products have failed, we listened, and then spent two years developing a product that addressed every single concern. Our product is non-peeling, non-bubbling, non-fading, heat resistent and has true color consistency through and through. We have acheived this by formulating a superior product, that has surpassed even our best expectations.
innovative 
Techniques create novel Procedures
Here at Unique Stone Resurfacing™ , we stay ahead of the game. Technology is ever changing and we strive to keep ahead of our competition by studying current trends and modifying our procedures to compliment the newest and best techniques. Skilled craftsmen and top quality materials are vital to the success of any resurfacing job, but without the right techniques, quality results can not be guaranteed. Our resurfacing process is meticulous and unlike any other offered in New Mexico.
This process includes six coats of our proprietary epoxy product, involving three different chemical compounds, which is mixed on site and sprayed through a custom rig designed specifically for resurfacing. Once the surface is completely prepped and the product is mixed, our techs apply two coats of base primer, which bonds our resurfacing product to the surface. After the primer dries, four coats of our epoxy is sprayed methodically to ensures true product and color consistency through and through. Each layer is the exact consistency of the layer before it, this technique eliminates the possibility of product application inconsistency. Additionally, this method of product layering provides a thick and durable end result that guards against fading because within every layer is a protective coat. Our competitors, by comparison, apply a final protective coat on top of their paint product and speckles. If that final protective coat is penetrated then it jeopardizes the integrity of the entire resurfaced area and promotes peeling. If our product is penetrated, the damage will not spread or create peeling because of the technique we employ. Our resurfacing process is just as unique as our name implies, as well as every individual job we preform. We are truly unique in every sense of the word.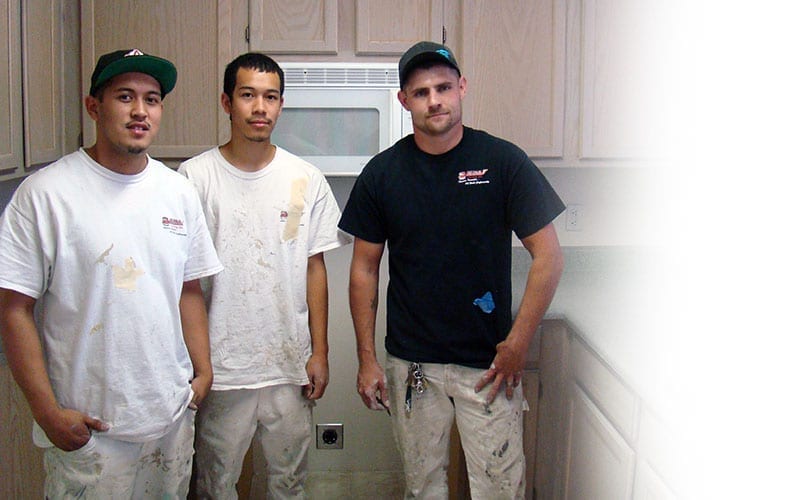 We have all the best resources, let us 
Help You transform your home
Our Unique Stone Resurfacing™ has created the best team, developed the highest quality materials and discovered the most effective techniques for resurfacing because we listen to our customers and we respond. That is the ultimately what makes Unique Stone Resurfacing different.
Quality is never an accident; it is always the result of high intention, sincere effort, intelligent direction and skillful execution; it represents the wise choice of many alternatives.